Creating Educational Opportunities
Kevin Myatt, Senior Vice President and Chief Human Resources officer, Yale New Haven Health System, reads to children at New Haven's Strong School on Read Across America Day, which encourages children to keep reading and learning.
Our Programs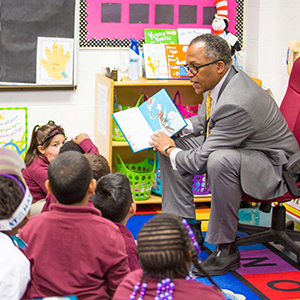 Gateway Community College Nursing Program
Gateway Community College is recognized throughout Connecticut for providing relevant, industry-specific degree and certificate programs to meet the needs of both students and the regional business community. Yale New Haven Hospital (YNHH) partnered with Gateway to create the Associate of Science in Nursing program in 2003, by providing technical, in-kind and financial assistance. The program boasts modern nursing suites and curriculum donated by YNHH to prepare students for this in-demand field. The college also provides Allied Health programs including medical sonography, dietetic technician and medical billing.
Minority Nursing and Allied Health Scholarships
Since 1989, YNHH has provided scholarship awards to graduating seniors from Greater New Haven who enroll in full-time programs in nursing or an allied health field, such as nutrition, diagnostic radiology and respiratory therapy.
New Haven Promise: Partnership
YNHH collaborates with this support system designed to cultivate a college-going culture among New Haven students. The partnership encourages them to take advantage of the program, which promises to pay tuition for any in-state public college or university for those who maintain academic standards and actively volunteer in the community. The partnership specifically targets the development of a college-going culture from pre-K through grade 12 through both in-school activities as well as community-based parent engagement.
School-to-Career
School-to-Career is a paid internship opportunity for high school students in the New Haven public school system. The partner schools are James Hillhouse High School, Wilbur Cross High School, Hill Regional Career High School and Metropolitan Business Academy. Students begin in the second semester of their junior year and stay engaged through the summer and senior year as well. The goals are to mentor and coach students in the necessary skills to become successful in the workplace while showcasing career opportunities in health care and related industries in both clinical and administrative roles.
---